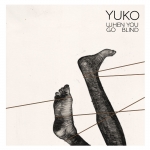 CAT.NR: 541416504401D
REL.DATE: 2011-05-23

Yuko - When You Go Blind

TRACKLIST
1 . Yuko - When You Go Blind

INFO
When You Go Blind is the second single taken from Yuko's second album As If We Were dancing.
The album (their second) is gaining dedicated followers with every minute. Fans and press unanimously laud Yuko's distinctive mixture of fragile textures, inspired rhythms and captivating songs.
This melancholic yet catchy tune is bound to find its way onto your radio and into your eardrum.