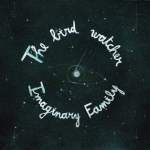 CAT.NR: 541416505412D
REL.DATE: 2012-06-04

Imaginary Family - The Bird Watcher

TRACKLIST
1 . Imaginary Family - The Bird Watcher

INFO


Imaginary Family is the moniker of Joanna Isselé.

Just a few years ago, Joanna was given an acoustic guitar as a present. She started writing songs, about delinquent cowboys, lonely neighbours and bird watchers. Being left-handed, she taught herself to play the right-handed guitar upside down. It defines her peculiar sound, which is delicate, unadorned and moving.
Check out the amazing video to The Bird Watcher: http://youtu.be/HFWs4fWPmgg

This first single and the video that comes with it got early support from Disco Naiveté, Listen Before You Buy, yvynyl, 22 tracks and more.