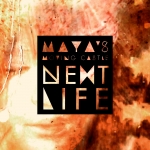 CAT.NR: 541416505658D
REL.DATE: 2012-09-10

Maya's Moving Castle - Next Life

TRACKLIST
1 . Maya's Moving Castle - Next Life

INFO
Next Life is the first single taken from Maya's Moving Castle's eponymous debut album.
Maya's Moving Castle is the creation of a girl who grew up on a small farm, digging up insects and collecting butterflies. She started out playing an old cello at home. When she moved to the city, she became a multi-instrumentalist and started writing songs in her attic. Driven by her imagination and experimentation, she created her own fantasy world. Meanwhile, the attic became a studio, and solo turned into a full-blown band.
Maya's debut album is expected in the fall of 2012.