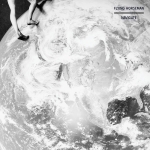 CAT.NR: 541416505745D
REL.DATE: 2012-11-26

Flying Horseman - Navigate

TRACKLIST
1 . Flying Horseman - All Day
2 . Flying Horseman - America Is dead
3 . Flying Horseman - We Navigate
4 . Flying Horseman - Shadowplay

INFO
Just a few months after releasing their highly acclaimed second album 'Twist', Flying Horseman returns with this breathtaking four track EP.
In between touring with Flying Horseman, promoting their album and playing in numerous other bands and projects, Bert Dockx has found the time and inspiration to record 'Navigate', which is set for release on Unday Records at the end of November.

Three of the tracks are solo performances by Bert, stripped down songs which showcase his particular talent for writing and performing electrifying tunes. This is about as tense as one guitar and one voice can sound.
'America is Dead' is a rework of an older unreleased Flying Horseman track, which now receives the full band treatment. This EP summarizes why we love this band so much… 'Navigate' is pretty, moody, gentle and menacing all at the same time, no less than impressive.

'Navigate' will be available on limited 10" vinyl and as digital download.