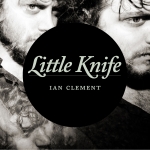 CAT.NR: 541416505775D
REL.DATE: 2012-11-26

Ian Clement - Little Knife

TRACKLIST
1 . Ian Clement - Little Knife (Radio Edit)

INFO
Little Knife is the first single of Ian Clement.
Ian Clement is no stranger, as he is part of Belgian rock trio Wallace Vanborn. His solo work is something entirely different and far more intimate though – consider it to be his Mr. Hyde contrary to the Dr. Jekyll he unleashes in Wallace Vanborn. He's trading punch for finesse, shouts for whispers, and while conjuring a deep sound unknowingly places his cold hand in your neck.

Ian's solo debut is set for release early 2013 on Unday Records.