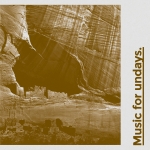 CAT.NR: UNDAY026D
REL.DATE: 2014-02-24

Various Artists - Music For Undays

TRACKLIST
1 . Yuko - The Idealist (MFU Version)
2 . Trixie Whitley - Toledo (Demo)
3 . Flying Horseman - Highway Kind
4 . Imaginary Family - The Riddle
5 . Spidergoats featuring Ian Clement - Under My Skin
6 . Ian Clement - Innuendo
7 . Dans Dans - River Man (Live)
8 . Blackie & The Oohoos - Plain Gold Ring
9 . Woolf - Hush
10 . I Will, I Swear - Mess
11 . YellowStraps - Valium
12 . Hydrogen Sea featuring Imaginary Family - All That Keeps Us
13 . Maya's Moving Castle - Underland

INFO
You are watching and listening to Music For Undays. It contains thirteen unreleased tracks by artists from the Unday Records label and a few newcomers. New music from Trixie Whitley, Flying Horseman, Ian Clement, Dans Dans and many others, recorded especially for this release.
It's been little over two years since Unday Records emerged. Yuko had finished recording their second album, which we adored, and we were looking for a platform to release it. We created Unday Records, the brand, the logo, the website, the lot. It was clear from day one that this was not destined to become a one off project, we were building a platform to last.
Flying Horseman joined us, and set extremely high standards with their sophomore album Twist. A number of exciting artists followed in their footsteps in the same year. In January 2013, Trixie Whitley debuted on Unday with her acclaimed Fourth Corner album, which was an obvious climax in Unday's short history.
Two years after its start, Unday still feels as fresh and exciting as ever, only now it's home to ten artists. All different but dedicated and inspiring in their own ways.
Music For Undays is not trying to look back. Above all it seemed like a good idea to let all the talent on the label record new stuff, without any restraint or pressure.
The assignment we gave the bands was quite simple: record a new track, exclusive to this release. No B-sides or leftovers. Everybody said yes. Most of the tracks have been recorded at Kristof Deneijs' (Yuko, Imaginary Family) Dive Studios and at Ian Clement's Donderling studio. All songs have been mixed by Jasper Maekelberg (Yuko). This way we've seen spontaneous collabs emerge in the care free environment of the home studio.
This album also introduces a number of new names, a few newcomers which we spotted in the last couple of months, and who we think match the Unday universe perfectly. Keep an eye on them.
The result of all this is at the same time diverse and coherent. There are live versions, solo performances, covers and etches of new material on there, but most of all brilliant songs. We are really thrilled with the result.