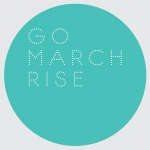 CAT.NR: UNDAY040D
REL.DATE: 2015-05-18

Go March - Rise

TRACKLIST
1 . Go March - Rise (Single Version)
2 . Go March - Rise (Psychemagik Remix)
3 . Go March - Rise (Dreems Remix)
4 . Go March - Rise (Peaking Lights Remix)
5 . Go March - Rise (Shigeto Remix)

INFO
Go March are an instrumental group based in Antwerp, Belgium. It is a new project born out of jam sessions that have resulted in their debut single 'Rise', an electronic, Germanic-infused, post-rock screamer that is a sort of Mogwai meets Kraftwerk synthesis yet with all the futuristic propulsions of a new, fresh and hungry band making music not just for 2015 but for beyond.

This release comes with a series of remixes from Psychemagik, Shigeto, Peaking Lights and Dreems who all add their own indistinguishable imprint on the track, unpacking and expanding it to take it across a range of sounds and tones that weave from ambient dub to club floor filler.