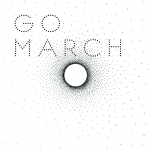 CAT.NR: UNDAY044D
REL.DATE: 2015-11-27

Go March - Go March

TRACKLIST
1 . Go March - The Ship Of Bambi
2 . Go March - Chase
3 . Go March - Rise
4 . Go March - Like A Record
5 . Go March - Slow Horse
6 . Go March - Earthbound
7 . Go March - Lighthouse
8 . Go March - The White Lodge

INFO
Go March are an instrumental group based in Antwerp, Belgium and consist of Philipp Weies (guitars), Hans De Prins (synthesizers) and Antoni Foscez (drums). It is a new project born out of jam sessions that have resulted in their self-titled debut album, Go March, an electronic, Germanic-infused, post-rock screamer that is a sort of Mogwai meets Kraftwerk synthesis yet with all the futuristic propulsions of a new, fresh and hungry band making music not just for 2015 but for beyond. That said, while the group have landed on this irresistible blend of electronics, rock and more ambient passages, on Go March the initial conceptions for the record varied somewhat "My initial ideas for a possible sound were actually based around bands like Boris or Lightning Bolt, but the moments when we just improvised were simply far more interesting." Says Weies of the groups early evolutionary period. "When I first showed our demos to a friend of mine he said it reminded him of something between Trans Am and Maserati. My reply was: "Wow, we need to check them out!"

Whilst the group state that "It's quite difficult to pinpoint where inspiration actually comes from" Weies does concede that one particular inspiration holds especially strong for him, "I am vastly inspired by the movies of David Lynch, especially Lost Highway and even more specifically the sequence where a car is driving through the dark and all you see are the median strips passing by. The image has this distinct tunnel vision-feel to it that I am often looking for when making music." The beauty in repetition and hurtling down a pitch-black highway at midnight is an idea that runs through the record. "The first time I played demo versions of our tunes for somebody was in a car when we drove home around dusk. I can be a bit insecure about showing people what I do, but that situation seemed about perfect. I can totally dig a perfect 3:22" pop song, but I always had a weakness for seemingly endless repetition, mainly because it can put you in that state of trance. At a certain point you just get sucked in there and lose yourself completely"

Repetition, groove and minimalism are words that might spring to mind when describing Go March, but that's not to say the album is singular in it's vision. While the impact of Germanic proto-techno bands is a clear influence on the group, the freedom of contemporary electronic music, math rock and modern classical are all audible in the grooves of the album. "Personally I am diving into electronic music for some time now, which definitely had a big influence on how I produced the record" says Phillip ; "We didn't go for acoustically well sounding instruments. It was more important that every bit within a song served the other. And we took care that we didn't add more elements than necessary. It's something I'm looking for and I often find that kind of approach in electronic music (yes, I know there's a gazillion genres hidden in that term…) You often encounter more freedom there, especially in the way they process instruments.

Freedom from "gear heads", genre tropes and pre-conceived musical ideas is a rare thing, and Go March have managed to create a body of work through gut-instinct, intuition and feeling allowing the music to develop naturally to them. From debut single "Rise" which stretches a post-rock groove over the five minute mark, to 'Slow Horse' and 'White Lodge' which are smothered in glacial keys, synthesised throbs and shuffling poly-rhythms, Go March is a record that defies expectations and challenges the listener in equal measure. "The record obviously doesn't file under "summer hits of 2015" jokes Philipp, 'But even though the word "dark" slipped through my mind quite some times, I don't think it covers the intentions and how the album turned out to be. What we are looking for is more of an undistinct feeling somewhere in between melancholy and hopefulness", and you won't find that on a Now 54 compilation.