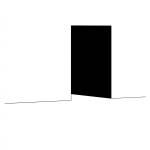 CAT.NR: UNDAY070D
REL.DATE: 2018-01-26

Flying Horseman - Rooms / Ruins

TRACKLIST
1 . Flying Horseman - The Key
2 . Flying Horseman - Deep Earth
3 . Flying Horseman - Fever Room
4 . Flying Horseman - Reverie
5 . Flying Horseman - Stars
6 . Flying Horseman - Bee Season
7 . Flying Horseman - Bright Light
8 . Flying Horseman - Soldier
9 . Flying Horseman - Private Isle
10 . Flying Horseman - Killer
11 . Flying Horseman - Ruins

INFO
With their unique mix of experimental rock, drony post-folk and deep, dark blues, Flying Horseman is an ongoing, growing sensation.
The band's new album, 'Rooms / Ruins', is a collection of eleven devastating songs from a highly intriguing and beguiling band.
Since the band's formation in 2010, the Antwerp based quintet have developed a rich, organic sound that is truly their own. The rich interaction of deep souled vocals, incisive lyrics, hypnotic bass, obscure guitars, floaty synths and tribal drums create a melancholic atmosphere that grabs the listener by the throat. Musically, they are situated somewhere between the dark princes Mark Lanegan and Nick Cave, with outbursts of lyricism and tribalism and always keen to experiment.
Fronted by the multi-talented Bert Dockx, 'Rooms / Ruins' is the result of a seven-week residency at deSingel, Flanders' chief venue for the arts. The run ended with an incredible live performance which was followed by seven more shows across Belgium and the Netherlands before the band went into the studio to record the material that would eventually become the band's new album.
Across 'Rooms / Ruins', Flying Horseman convey an emotional depth and soul-lacerating atmosphere that characterises the band's sound. It is a whimsical, vibrant and at times a strange affair that will send you inwards before catapulting you into omission. It is focused and purposeful, as much as it is dreamy and ambivalent. Is it a reflection of an intangible reality or a society gone astray, or a break-up album with apocalyptic dimensions?
Tracks like new single 'Reverie', a decidedly minimalist number, reveal a calm surface with a vibrating darkness that lurks beneath while 'Deep Earth' is hypnotising folk noir that is both urgent and uncompromising.
In recent years, the band have honed their sound, introducing new textures and sound through analogue electronica and sequencers, highlighted on tracks such as 'Stars' that blend hypnotic soundscapes with tender female backing vocals, but it's tracks like 'Bright Light', an all-out rock assault, that suggest a band at their most devastating.