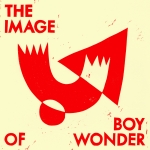 CAT.NR: UNDAY071D
REL.DATE: 2017-11-03

Faces on TV - The Image Of Boy Wonder

TRACKLIST
1 . Faces on TV - The Image Of Boy Wonder

INFO
In Faces On TV's new single you can hear a resonating calabash, a female chorus, a transverse pan fluit, a skeleton handclap, a trip-hop beat from the Far East or the Far West - only a stone's throw apart here - and a snake charming voice you'd follow anywhere. It's all Jasper Maekelberg, the one man band multiplying into Faces On TV when he's on tour. In the studio it's just him. Doing all and everything. Guitar, piano or balafon, crafting beats and mending breaks, to become himself again instead of someone else's super producer. With 'The Image of Boy Wonder' he resets the scene and goes widescreen. No more references, everything must yield for that very own sonic universe, of which he is the voice and the pulsating heart – and the face. "Slowly slipping under", he sings and he sucks you down with him. Up and down again, towards the light – albeit muted light, and muffled desire. "Lift your head up high, there's no easy way out".
The Image of Boy Wonder is the first single of the debut album of Faces on TV, which will be released in April 2018.