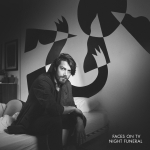 CAT.NR: UNDAY078D
REL.DATE: 2018-04-20

Faces on TV - Night Funeral

TRACKLIST
1 . Faces on TV - Suspicious 
2 . Faces on TV - Dancing After All
3 . Faces on TV - Night Funeral 
4 . Faces on TV - Same Thing 
5 . Faces on TV - The Image Of Boy Wonder
6 . Faces on TV - Tell Me
7 . Faces on TV - Call Me Up
8 . Faces on TV - Looking Glass
9 . Faces on TV - Slowly Fading Out
10 . Faces on TV - Terminal Case 

INFO
Faces on TV is the creation of Jasper Maekelberg, a multi-instrumentalist and producer whose intelligent and adventurous psychedelic pop has caused a stir in his native Belgium.
The celebrated sound-architect is set to release his eagerly-anticipated debut album 'Night Funeral' on the 20th April via Unday Records. A polychromatic symphony of magnetic synths, shuffling rhythms and exotic sounds, echoes of Air, Alt-J and Portishead can be heard across the album, resulting in a multicoloured fusion of sparkling percussion, crafting beats and tempting vocals.
Tracks like recent single 'The Image of Boy Wonder', conjure up a psychedelic dream-world of bass-heavy trip hop and eerie ambience, backed by epicurean female vocals, resulting in an alluring nugget of poptronica, while new single 'Dancing After All', is a rich mix of fizzing electronics that tells a tale of debauchery, twisted love and broken emotions, a familiar theme across the album.
"This last year was kind of hard for me. I was touring a lot and when I wasn't in the van or on a stage I was producing other bands in the studio. This kind of life is not really the ideal combination with a normal social life or a relationship. So, I grew apart from my girlfriend. She moved to Amsterdam while I was touring Europe. So, we never really saw each other. All the songs are rooted in this feeling of growing apart", says Jasper.
The inviting 'Night Funeral', is untainted, styled and groovy pop while 'Looking Glass' floats along on a sea of formulated beats, mending breaks and heavy horns. It's often trippy but always mesmerising, drizzled with a symphony of synths, bongos, pizzicato strings and catchy choruses.
Faces on TV released their first single 'Run Against The Stream', back in 2015, which was immediately picked up by Belgian radio including Studio Brussel and Radio 1. The critically acclaimed 'Traveling Blind' EP followed a year later with the song 'Love/Dead' reaching over one million plays on Spotify and was one of the most played songs of 2016 on Studio Brussel.
The band have supported dEUS, Yeasayer and Balthazar and have performed at numerous festivals across Europe including Pukkelpop, Xpo North and Eurosonic.
Along with Faces on TV, Jasper is also the brains behind Bazart, Tsar B, Warhola, Warhaus and numerous other Belgian chart-toppers and he has a string of top ten hits behind him. His reputation in his homeland as one of Belgium's finest musicians has recently led to a documentary film being made about his career and life to date.
Unday Records is an independent record label for authentic music, based in Ghent, Belgium. It is home to Trixie Whitely, Millionaire, Tamino, Intergalatic Lovers, Het Zesde Metaal, Madensuyu and Flying Horseman.
Artwork comes from Ghent based artist Sam Scarpulla, who is making a name for himself with his idiosyncratic high contrast murals and lino prints. Inspired by the rough edits of the Night Funeral album, Sam designed, cut and printed 10 icons, one for each track on the album.